Our puppies
If you are a lover of Rhodesian Ridgebacks, or you are interested in this breed then you probably already have some knowledge of what kind of lovely dogs they are!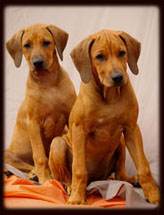 However, if your adventure with Rhodesians is just about to begin, read all you can about this breed and it may happen that you will become fascinated with these majestic red ridged dogs!
For more information on Rhodesian Ridgebacks please read our section On the Breed.
For additional information which might be of interest for the future owners of Rhodesians please visit the site of Rhodesian Ridgeback Club of which we are members. What is more, internet and specialist literature are also a vast source of commonly available information.
For the time being our site contains only the basic information since it is still under construction. Therefore please, visit our site frequently as it will be regularly updated.
Gabby is our friend and a beloved member of our family, she lives with us and is a source of unceasing joy and happiness. That is why, it is important for us that her puppies will become a part of a loving family that is willing to share their time, love and devotion particularly with a Rhodesian puppy; a family that will be able to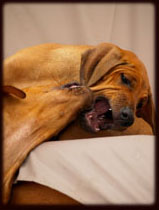 raise and take adequate care of this wonderful puppy.
It is worth mentioning that Rhodesians should not be kept outside in the kennels, as they prefer human company and do not like to be let alone.
Since we are much concerned with the future of Gabba's puppies, we assure all their potential owners that it is our priority to provide the best conditions for the dogs' development, including appropriate dieting and socialization. What is more, we consider it vital, that the puppies will enter a loving environment, that is why we would like to meet their future owners.
The puppies will also undergo The Early Neurological Stimulation Program. Moreover, when seven weeks old, the puppies will perform the Puppy Aptitude Test, which will describe their character and temperament. This will help us to select a particular puppy according to his future owners' preferences.
The puppies will be ready to enter new homes after having finished eight weeks, after completing adequate prophylactic program, after being examined by the Polish Canine Association, when parasite free, with all due vaccinations and an identification tattoo.
What is more, the puppies from Gabba's litters will always come from the matings which meet all the reproduction requirements of the

Rhodesian Ridgeback Club in Poland.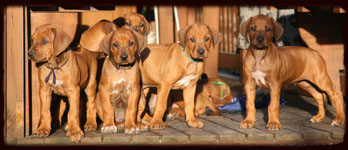 Together with our puppy you will also get:
thorough information about the dog, his health, faults, if any, disqualifying the puppy from participation in shows or future breeding.

trade contract concerning the purchase of a puppy, with all the conditions and obligations of both sides of an agreement.

birth certificate on the basis of which the Canine Association issues the pedigree and the copies of all remaining documents concerning particular litter.

all the documents concerning puppy's health, vet examinations, vaccinations etc., and a little surprise- few items needed when having a dog.

advice and detailed information concerning further conduct, after arriving home, advice concerning dog's diet, raising, coaching and participation in shows.

a guarantee of constant contact with us
What do we expect from you:
Most of all, a conscious decision about buying a dog, with all its consequences. What is more, a wise and tender relationship with the dog, adequate training, diet and above all, love. As we've already mentioned, we do care about our dogs, and we would like you to have the same attitude.
We also hope and wish that you will keep in touch with us afterwards.