We are happy to announce, that we're expecting a new litter in our kennel at the beginning of  February 2014 !
The mother of puppies will be Waceera Ajia Makorikori, for the second time , or as we prefer to call her affectionately "Wasera' or 'Waśka' :) She is a healthy bitch of wonderful character, lively temper and excellent exterior. Wasera is a joyful, merry and nice family dog. Beside her wonderful character, she is an elegant, agile and active girl, what is constantly appreciated by many judges on a shows. Waceera is a Polish Junior Champion and Polish Champion.
She is the progeny of our Gabby and Wantu' - Ikimba WAITIMU – World Winner 2010', one of the most titled Rhodesian sires in the world, also called Ridgeback No.1 in Europe ! Father of many beautiful puppies of exquisite type and character.
Waśka is really like her "big" father, she inherited many nice features from him, which are submitted to her puppies. She is already a mother of a wonderful Ridgebacks from "C" litter, which grown up for a beautiful and smart dogs :)
More information about Waceera you can find in "Our Dogs"
The father of this litter is as attractive stud Polish Junior Champion, Polish Champion Lukus z Werwą! Lukus is a dog with a good health, great anatomy, perfect movement dynamics, and what's the most important lively temper and great nature.
I know Luksus since he was a puppy, we often met each other on a shows, so I could check him out and get to know about him :) Now he is experienced stud, which captivate not only with external view, but also great and sustainable behavior, he is a gentleman :) What's more, Luksus is an elegant Rhodesian with a great format, he has got excellent male head and dark eyes, wonderful  topline, good rear angulation and good colour.
Luksus has got also nice provenance, his father is Mkai Leoridge (imp. IT) clearly American provenance, while his mother Rewia, is a daughter of famous Int.Ch, Zw. Cruft, WW 2003' Jockular Jamal Aquamarin after her mother Na'nouska Passia de Teufelsort, which father was also famous Int. Ch., Multi-Ch., WW 1996' Rydgeway African Hunter !
Luksus like his father Mkai greatly gives his features to the puppies, he is already a father of some successful litters. More information about Luksus, his parents you can find on this website www.werwa.pl
In the Waceera and Luksus pedigrees, we can find many outstanding and known on the whole world Rhodesians, Champions of many countries. However pedigree of a future puppies, is a combination of American, Australian, African and European lines.
We expect exterier balanced litter, puppies with a great anatomy, beautiful heads, strong bone, deep forechest, well angulated limbs and with a red-wheaten colour.
Both parents are examined for a hip dysplasia and elbows, osteochondrosis, and they are free of those diseases.
I hope, soon we will be happy with lovely, beautiful and healthy puppies, after such great RR pair :)
Below, few ancestors of a "L" litter, if you want to know more about the others, I invite you to  the litter pedigree !
| | | |
| --- | --- | --- |
| IKIMBA WAITIMU | MKAI | JOCKULAR JAMAL AQUAMARIN |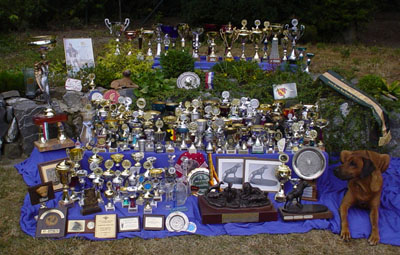 RYDGEWAY AFRICAN HUNTER